Why would someone want to cut down a tree or hedge? Probably, the best reasons are that the tree is old or diseased and likely to collapse or spread the disease to others. 
However, those aren't the only reasons. Tree surgeons, or arborists, are skilled men and women who train how to recognise tree diseases, and how to trim, prune and fell diseased and healthy trees and bushes.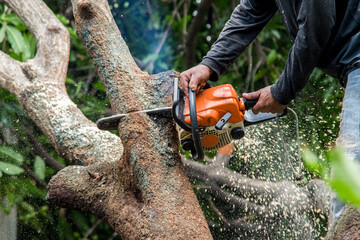 Tree removal costs vary depending on many factors, which we'll discuss later on. But, first, we'll look at tree surgeon costs and later, how to go about hiring a tree surgeon. 
In the UK at present, an average arborist charges anything from about £500 up to and beyond £3000 including VAT. Yes, this a huge range and probably not very helpful at present. But, when you consider that the jobs range from an ornamental conifer tree removal or pruning an apple tree in your garden to removing a dead oak tree, hundreds of years old, threatening to demolish a thousand-year-old church, you might appreciate the range.
Comparing Quotes Could Save You Up To 33%:
Tree Surgery Prices
The average cost of tree removal varies depending on the task in hand, and the equipment needed to complete the task. The following table shows various costs, but you should remember that tree surgeons usually charge a minimum total amount to cover overheads. So, a job that might usually cost £200, will actually cost £400. 
In the table below we've outlined how much a tree surgeon charges for various tasks:
| Tree Surgery Task | Duration | Estimated Cost |
| --- | --- | --- |
| Tree pruning | 0.5 to 1 day | £100 to £500  |
| Tree pollarding | 0.5 to 1 day | £100 to £500 |
| Tree lopping | 0.5 to 1 day | £100 to £500 |
| Small tree removal | 0.5 to 1 day | £500  |
| Large Tree felling  | 2 to 3 days | £3000 |
| Stump removal and grinding | 0.5 day | £200 |
| Hedge trimming (30m long conifer) | 0.5 day | £250 |
| Hedge removal (30m long  conifer) | 0.5 to 2 days | £500 |
| Coppicing | 0.5 to 1 day | £500 |
| Tree survey | Depending on the number of trees | Starts from £250  |
Usually, the cost to cut down a tree will be fairly straightforward for a tree surgeon to estimate, and you'll know what you're paying for. However, tree pruning costs, tree lopping costs, and costs of other basic tasks will vary depending on the difficulty of the job.
Comparing Quotes Could Save You Up To 33%:
Tree Pruning
Pruning a tree involves removing dead and diseased branches, and intends to stimulate healthy growth. The time taken for this job will depend on the extent of the work involved and the size of the tree.  
Tree pruning costs may be as little as £100, but you will be charged a minimum rate determined by the number of people on the team. The price will probably end up being between £400 and £500. 
Tree Pollarding
Pollarding is a way to remove the upper branches of a tree. This promotes the growth of dense foliage and keeps the tree at a pre-determined height. The removal of branches and foliage also reduces the weight and wind resistance of the tree. 
Once again the time taken for the task depends on the extent of the work and the size of the tree. 
Pollarding is a method of pruning so they will be approximately the same price. 
Tree Lopping
Lopping is the removal of side branches designed to reduce and modify the tree's shape. Many people lop trees indiscriminately, which damages the tree. But, arborists will lop carefully according to two accepted methods, pollarding and hedging. 
The duration will depend on the extent of the job, as will the costs. But, an average charge will be about £100 to £500, and subject to a minimum charge of normally about £400. 
Small Tree Removal
Usually, small trees are easy to remove and don't require much specialist equipment. Although you might consider attempting this work yourself, it's better to call in a team of tree surgeons as they will probably get the work done in an hour or two. While they're on your property, find some other tree maintenance work for them to do. Although a tree surgeon's hourly rate is quite reasonable, they will expect you to pay a minimum charge, so make full use of it. 
Large Tree Felling
The problem with small trees is that they grow larger. Perhaps many years ago, you planted a small sapling in your garden, in a location that wasn't a problem for anyone. Unfortunately, now it has grown up to the property line, is three or four times as tall, and has roots that begin to encroach on the foundations of your house and of those around you. What's more, it has caught a disease that means in a couple of years it will fall onto your neighbour's new conservatory. Do not try to remove this yourself. But, hire a tree surgeon to take this down to ground level. Chopping a tree down (or to be more accurate, "using a chainsaw"), is an extremely skilled job. Don't try it yourself.
Comparing Quotes Could Save You Up To 33%:
Stump Removal & Grinding
Although you can rent a stump grinder from the local Tool Hire Shop for less than £100 per day. Removing a stubborn stump is rarely a job for the amateur. Removing a tree stump requires a knowledge of the tree species and how they spread their roots. A qualified tree surgeon will know exactly how to remove the stump with the least possible upheaval to your garden. 
Stump removal costs vary depending on the size and species of tree, and whether you ask the arborist to incorporate the stump removal in with the tree felling.  
Hedge Trimming
The average homeowner is more likely to have a hedge in their garden than a tree. So, arborists extend their tree cutting services to include the care and maintenance of hedges and shrubs.  
The average cost of hedge trimming is about £90/hr. However, if the arborist needs access at height equipment, the cost can rise to about £120/hr 
Hedge Removal
Hedge removal costs will depend on the depth and length of the hedge and what type of root system the species has. A small hedge of between 2 to 4m long will cost on average between £100 and £300 to remove, including the cost to remove the waste. On the other hand, a large hedge could cost between £300 and £500. On top of the usual costs, you will also have to pay for the hire of an excavator to remove the root system. 
Coppicing
A copse is a small group of trees that put out shoots from their stumps or roots. The practice of removing the shoots is called coppicing and is a traditional way of woodland management. To do the job properly, you need the skills and experience of a tree surgeon. Periodically, the shoots must be removed to make way for younger growth. And, this happens usually once a year. 
The price of coppicing will depend on the size of the copse and how long it's been since the previous 'thinning out session'. But, a team of 2 or 3 professionals will take about a day and charge about £500. 
Tree Survey
A tree survey provides useful information about the trees for the benefit of a landowner or property manager. Arborists also provide surveys for the local planning authorities when they receive planning permission applications. Only a proportion of the tree survey occurs on–site. As you would expect, the arborist does a significant amount of time researching the tree species and writing the report. Depending on the number of trees and the species requiring inspection, the cost can vary considerably. But, a common starting price would be about £250.
Comparing Quotes Could Save You Up To 33%:
---
Tree Surgery Qualifications & UK Regulations
Qualifications
A reputable tree surgeon will belong to one of the recognised professional associations such as the Arboricultural Association (AA) and the International Society of Arboriculture, although plenty of good arborists choose not to.  Additionally, in the UK there are some voluntary schemes organised by the Arboricultural Association such as the ARB Approved Contractor, and the AA Registered Consultant Directory. These, together with the Government endorsed Trustmark Scheme  provide lists of approved tree surgeons and arborists in the UK.  
The governing body that oversees tree surgery qualifications is the National Proficiency Tests Council (NPTC). The council specialises in City & Guilds 'Land Based' qualifications including the ones needed to be an arborist. 
At a bare minimum, every tree surgeon should have the following qualifications. 
First Aid at Work.

 

CS30 – Maintenance of the chainsaw, on

–

site preparation and basic cross

–

cutting

.

 

CS31 – Fell and process small trees

.

 

CS38 – Climb a tree and perform

an

aerial rescue

.

 

CS39 – Use of a chainsaw from a rope and harness

.

 
There are many other more advanced NPTC qualifications which you can find on the NPTC website. These are the Forestry and Arboriculture Level 2 and Level 3. 
Also, there are more advanced and degree level qualifications run by the Royal Forestry Society.
Comparing Quotes Could Save You Up To 33%:
UK Regulations
Fortunately for customers and arborists alike, the Arboricultural Association website gives full information about the laws and regulations relevant to trees, tree surgery and working at height. Alternatively, you can find out information on the Planning Portal website relevant to trees and hedges in your garden, and the wild. And, on the Government website for those regulations relevant to Tree Preservation Orders and trees in conservation areas. 
In general, the local authority orders a Tree Preservation Order (TPO) for the protection of specific trees, including groups of trees and woodlands that have a specific purpose beneficial to the community or the local ecology. A TPO prohibits the following specific actions that might damage the tree. 
Felling

Topping




Lopping

Uprooting

Cutting roots
And, any action liable to cause wilful damage or destruction of the trees, without the written permission of the planning authority. If the authority gives permission, they can also specify conditions which must be followed. The full legislation can be found in the Town and Country Planning (Tree Preservation) (England) regulations 2012.
Comparing Quotes Could Save You Up To 33%:
---
Tree Surveys: Prices & Criteria
Tree surveys in the UK comply with "BS5837:2012 Trees in relation to design, demolition and construction". 
The survey outputs a Tree Constraints Report, which identifies individual trees and tree groups within the designated survey area. The report also specifies: 
Height.

 

Quality grading (high, medium or low, unsuitable for retention).

 

Canopy Spread.

 

Root protection area.
Following on from this there is the Tree Constraints Plan. This identifies those trees that should be retained and plots them onto a drawing for the use of the local authority during a planning application. The report and plan also identify any pre-existing Tree Preservation Orders or Conservations Areas on the proposed or adjacent site. 
The cost of this work will depend on the arborist surveyor, the number of trees to be surveyed, the species, and the accessibility of the site. However, a typical professionally done tree survey starts at between £250 to £350 plus VAT.
Comparing Quotes Could Save You Up To 33%:
---
Tree Surgeon Q&A
What are the signs that a tree has a disease?
There are many signs of a diseased tree that only an expert can spot. However, the ordinary person who knows very little about the health of trees will notice the following problems: 
Dead branches are a giveaway. If branches appear dry and break easily you can be sure there is something wrong with your tree.

 

Usually

,

trees decay from the inside out. So, if you see a decayed portion, you can be sure there's more where that came from, and it's time to call in the professionals.

 

If the leaves appear discoloured, then there is probably something wrong. Bear in mind that deciduous trees naturally shed their leaves in autumn after they turn brown.

So

don

'

t panic if the leaves naturally change colour.

 

Healthy tree bark should be continuous without deep cracks or holes. Be on the lookout for bark ano

ma

lies and call in the specialist for an expert opinion.

 

Unsightly architecture. A healthy tree will be 'more or less' symmetrical around the main trunk. If your

tree

appears different from what you would expect, call a professional.
Can I remove a tree myself?
That depends. If the tree is wild or on someone else's land, leave it alone. It might be part of a conservation area and it's certainly not your property anyway. However, if the tree is in your garden, and you don't need a ladder you can do the job yourself. If you aren't sure what to do, or if you want to remove it without damaging the roots (perhaps you want to move it to another part of the garden), then get advice first. Contact a reputable arborist, who will usually be happy to give advice. 
Why is it bad for trees to be cut down?
There are four main reasons. 
Large scale tree cutting will turn a healthy and vibrant terrain into one with very little vegetation. Many types of vege

t

ation rely on trees for shade, nourishment and soil management.

 

Plants in general, but especially trees absorb carbon dioxide from the air and create oxygen.  Therefore, destroying trees might be one of the causes of global warming. The resulting changes in temperature and humidity alter which plants and animals can survive in an ecosystem.

 

Many trees, especially in the UK, are hundreds of years old. Destruction of these trees within a conservation area will affect the environment of many organisms which have come to rely on the tree.

 

Trees are beautiful and enhance our quality of life.

 
How long will a dead tree stand?
A dead tree might stand for two or three years depending on the type of soil and its moisture content. Often, you might not even realise how dead a tree really is. Until one day a strong gust of wind pushes it over unexpectedly. The simple answer to this question is that a dead tree will stand until it falls! 
How can I save money on tree removal?
Although professional arborists prefer to work with a skilled team when removing trees, you might be able to help in a small way during the project. However, even if you aren't allowed to help fell the tree, you can save money by keeping the chipped foliage for garden mulch and the larger branches for firewood. An arborist will usually have to pay to get rid of these, so offering to keep them yourself will save some money.
Comparing Quotes Could Save You Up To 33%:
What kind of rope do arborists use?
Arborists use two types of rope. One for climbing and one for rigging. They have very different properties and aren't interchangeable. 
Arborists use climbing ropes to help ascend and descend from the tree as well as for securing themselves to the tree. They have a little bit of stretch which absorbs the arborist's kinetic energy in case of a fall. Climbing ropes are designed to BS EN 1891. This number will be stamped onto the rope along with a serial number for identification purposes. By the way, these don't have the same specifications as rock climbing ropes.  
The UK Health and Safety Executive (HSE) guidance notes state that tree climbing ropes should be between 10mm  and 14mm in diameter and undergo regular testing. 
In contrast, an arborist uses a rigging rope for lowering tree limbs to the ground. These aren't suitable for climbing as they don't stretch. Also, they aren't certified to the BS EN standard so must not be used as a form of personal protective equipment (PPE). However, they are rated to a minimum breaking strain (MBS) or a safe working load (SWL). One or both of these values will be marked onto the rope as well as an identification number. 
---
Get Quotes From Local Tree Surgeons
You can remove some small trees from your garden without any outside help. But, for the majority of trees, you will need the services of a professional tree surgeon. Complete the form on this page and you'll receive 2 or 3 quotes from a local arborist who can complete your tree–related work safely and efficiently. Find out how much a tree surgeon costs in your area.

Comparing Quotes Could Save You Up To 33%: