If you want more space in your home, an extension can create that space without forcing you to move house. At the same time, classic pitch or gable roofs can block windows and light to your home – and may require extra permissions from the council if they're too tall.
A flat roof extension navigates around both those issues, providing a quick, cheap, and modern-looking new space to your home. If you plan right, you may also be able to plan to use the top of the space as a balcony – giving you extra space in more ways than one.
The average cost of a flat roof extension in the UK is £1,200-£2,500 per square metre, or an average of about £1,850. Of this, about half is labour and the rest is materials, excavation, and waste removal. In addition, you may pay fees to architectural designers, planning permission, and building control for notifications.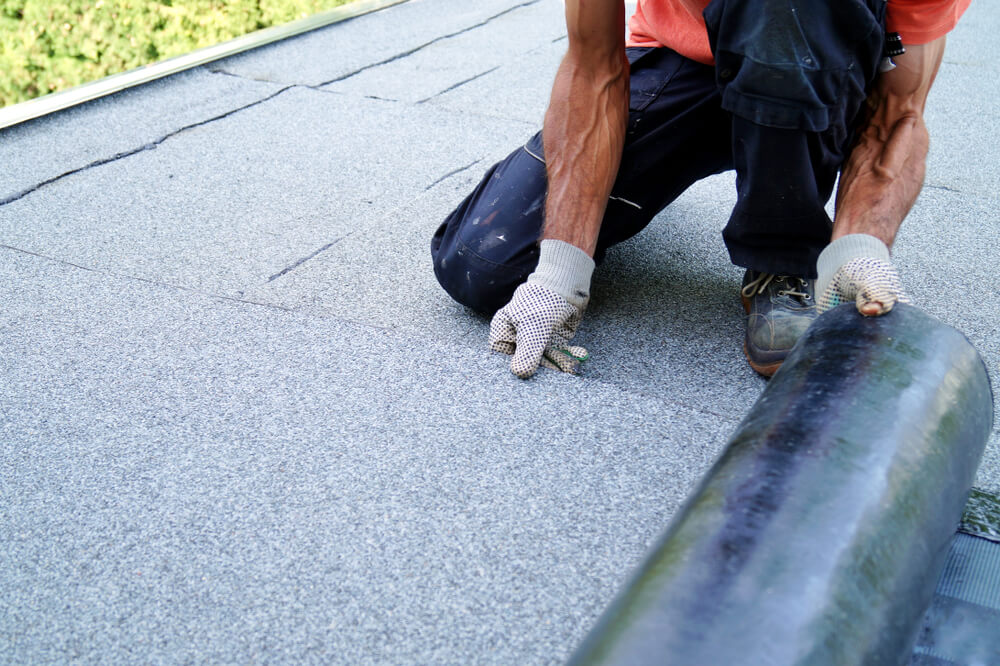 What Is A Flat Roof Extension?
A flat roof extension is exactly what it might sound like. You build an extension on your home and instead of adding a gable or pitched roof, you add a flat roof. The idea is that the flat roof is cheaper and faster to build.
It's also low and out of the way, meaning you can maintain your existing windows and lighting.
In addition, if your planning permission allows, you can build on top of the flat roof to create a patio or balcony area. However, that will involve additional building, not simply using the roofing as a balcony. This means it will also add additional costs.
How Much Does Flat Roof Extension Cost?*
A flat roof extension will normally cost £1,200- £2,500 per square metre, depending on building material and location. Here, you can expect that the large percentage of the costs is in brick, then labour. For example, the average home extension in the UK is 30-60 M2 . Because you normally have to match the existing material in your home, that building material will likely be brick.
Assuming that you're building a 5 (l) x 6 (w) x 3.4 (h) extension, you could predict the following costs:
Costs
Hours
Total

Hourly Rate

£10- £50

£2,360- £8,060

Pouring Slab

6-12

£120-£1200

Bricklaying

48-60

£480- £3,000

Roofing

4-8

£80- £940

Electric Work

1-4

£50- £240

Glazing

2-4

£200- £580

Heating

1-3

£40- £180

Drywall

4+

£40- £180+

Insulation

2-6

£40- £240

Removal of load bearing wall with doorway and windows

6-12

£1,200- £2,200

Structural engineer

2-8

£200- £800

Building Regulation Approval for Notifiable Work

£0- £690

Materials & Fittings

£8,540 – £19,551

Brick

£6,000- £9,000

Cement

£120- £396

Roofing

£960 – £6,120

Insulation

£365- £1,825

Heating

£800+

Drywall

£100- £500

Light Fixtures

£50+

Electrical

£145- £860

£10,600- £26,911
*Please note these prices are based on quotes at the time of writing in April 2023. Actual costs are subject to change and may be different at the time of reading.
These rates change based on roofing, balcony, and planning permissions needed. For example, the lowest rate assumes you're hiring the cheapest possible labourers and do not need planning permissions.
30 M

2

brick home with a felt roof – £10,600-£26,911

30 M

2

brick home with a clay tile roof – £16,720-£33,331

60 M

2

brick home with a felt roof – £18,500-£48,300

60 M

2

brick home with a clay tile roof – £24,700-£54,500

30 M

2

brick home with a balcony – £12,800-£29,720

60 M

2

brick home with a patio – £19,500-£51,800
7 Flat Roof Extension Pricing Factors
Materials and labour will always be the two largest cost factors in fitting an extension to your home. However, you can expect other factors, like planning permission, notifications, and structural engineering to be costly as well.
1. Costs of Materials
Brick will be one of the most expensive parts of your new build extension. However, there are plenty of other materials costs to consider as well.
Typically, you need 120 bricks per square metre of double brick wall. If you calculate the walls for a 4x6x3.5 extension, you'll get roughly 49 square metres of wall. You'll need close to 6,000 bricks – give or take how much space you want to set aside for doors and windows.
Because bricks average £1,000-£1,500 per 1,000 laid – you can count that as an estimated cost of £9,000 in brickwork alone.
However, because you'll want to match the finishing on your existing home, you might be able to use a more expensive material on the outer layer and have the secondary layer of cheap brick or concrete blocks.
| | |
| --- | --- |
| Material | Cost per M2 |
| Brick | £100-£160 |
| Stone | £100-£270 |
| Glazing | £1,200-£3,400 |
| Softwood (Pine/Fir) | £30-£80 |
| Hardwood (Oak) | £450-£850 |
| Insulation | £5-£25 |
| Foundation | £120-£255 |
| Felt Roofing | £40-£60 |
| Rubber Roofing | £80-£90 |
| Concrete or Clay Tiles | £132-£255 |
For a 5 x 6 extension, you're looking at roughly 49 metres of walls, 24 metres of roof, 24 metres of flooring, 25-26 metres of foundation, and 74 metres of insulation.
Other costs like doors (£150- £690 per), sashes, trim, wiring, switches, spurs, plumbing, radiators, any plumbing, etc., are all important to keep in mind as well. And, of course, there will be a big difference in cost between finishing your home in drywall versus something more expensive like hardwood panelling.
2. Cost of Labour
The cost of labour is another very large part of the cost of building an extension to your home. Here, you can normally expect an extension to take 2-8 weeks for a team of 2-4 builders. If you account for paying them full time, at standard day rates, you're looking at a minimum of about £5,000 in build labour, plus additional labour like people driving equipment, levellers, etc.
For example, pouring your concrete foundation may take 2-6 hours total, but you'll likely have a team of four people working on it. That means you'll spend at least £120 in labour, but more likely closer to £600. You'll also have to pay the driver and any truck fees.
Some costs like bricklaying are relatively straightforward. On average, bricklayers will charge £1,000 to £1,500 per 1,000 bricks. Of course, you can always get more expensive bricks and will pay more – but that depends.
Other costs, like cutting and fitting timber joists for the roof will depend on the team, the equipment, and how many people you have to handle.
And, in cases of drywall, glazing, door installation, radiator installation, roofing, etc., you'll always need at least two contractors. That means paying a day rate twice. Of course, it also means work will go faster – but you can expect to spend £80- £160 for every hour the construction team is on your property.
3. Planning Permission & Notifications
Planning permission is not always necessary for building an extension. However, you'll always be required to notify building control. That will cost £170-£690 depending on location.
If you need planning permission, you'll typically pay something like £100-£255 depending on location. It will also add 6-8 weeks of wait time to your project.
However, the real cost of needing planning permission is the structural engineering costs of getting stamped and approved blueprints. Of course, chances are high that you'll already have those to some extent. However, if you need planning permission, consider budgeting an additional £2,500 for structural engineering. It might not be necessary to spend it all, but you might end up spending it anyway, especially if your initial plans are discarded.
4. Structural Engineering
Chances are very high that you'll extensively rely on a structural engineer while completing your extension project.
Here, a structural engineer should look at the load bearing wall you're removing to figure out how to best remove it without disturbing the house. The foundation also has to be planned to work well with the existing foundation.
In addition, the new building has to be load bearing – especially if you're shifting some of the weight of the original house to it or are putting a balcony or patio on the top.
Structural engineering costs either a percentage of the total job or an hourly fee. Often, that fee is between £80 and £150 an hour. Small jobs with simple blueprints will cost around £450-£600 but costs can go into the thousands and it's not unusual to have to pay £2,500 or more.
You can also consult with your build crew to see how much structural engineering you actually need and work to pick a design that requires as little extra design work as possible.
5. Size
The larger your extension, the more it will cost to do the work. However, that's not directly proportional. A 100% increase in size does not result in a doubling of the cost.
In most cases, it's slightly cheaper per square metre to build larger. However, that isn't always the case.
For example, with roofing, costs are depending on the cost of wood beams for the roof. In addition, some lengths may actually cost more. And wider lengths may actually cost more per square metre to buy the materials.
Other materials, like brick, stone, and cement blocks will typically cost the same no matter how many you buy. However, you may actually get a bulk discount if you buy a lot at once.
On the other hand, glass windows usually cost less per square metre for larger panes. For example, you can install a full back wall in glass for £2,500- £6,000 – which is actually cheaper than you could do so in brick.
6. Extras
The more design features you work into your extension, the more it will cost. For example, you can normally install a simple balcony for a few thousand extra. On the other hand, if you want sliding glass panels, a sunroof, integrated floor heating, a new bathroom, etc., it's going to cost a lot more.
Here, it's almost always a good idea to work out your budget and then to plan extras around that. However, if you do want things like a bathroom in your extension, it's a lot cheaper to build them into the design than it is to add them later. That's also true with windows, porches, storage areas, etc.
7. Quality of Materials
Most construction material starts out at a certain rate and then you can basically spend as much more as you want. For example, you can always spend more on designer bricks or stone, you can reduce costs if you want to go with cladding instead of brick, and you can choose from any number of expensive design elements.
That's also true with interior finishing. It's perfectly feasible to go with simple pine timber framing and drywall. On the other hand, you might want hardwood panelling. You might want stone tiles or a hardwood floor. All of these will add thousands in costs to the end-price of your extension. Therefore, it's important to look at what you want and why so you can make the best decisions for your budget.
Benefits Of Extending For More Living Space
If you're short on space, expecting children, adding to the family in another way, or just want a home office or gym, an extended living space can greatly improve your home. Often, building an extension on your home is also cheaper and faster than moving, because you won't have to spend the time, energy, and taxes to sell your existing home, shop for a new one, and then refit the new one to your tastes.
Home extensions can also be a great way to upgrade a home that's in the perfect location or has the perfect view, but not quite enough space for your needs. And, buying a small house on a large lot is a great way to get a home for cheap – because you can always add to it.
Of course, extending the living space isn't always a great idea. You may want to reserve a garden. And, it's always important to have a certain amount of garden space. That's so much true that city council may disprove your plans to build if they take up more than 50% of the garden.
How To Save Money
Build projects are normally relatively flat-rate and difficult to work around. However, you can take steps to save money on your extension project:
Choose the Right Materials
If you're on a budget, shop around to save money. Often, that will mean discussing building materials with your builder.
You might be surprised to find that you won't get the same recommendations from each builder, because you may be able to save based on what they have to hand or what they are experienced with. Asking for a completely new material or one that's harder to find will complicate the process.
However, simple decisions like using concrete blocks for your main building with cladding or brick facing can save you a lot over using just brick. And, ensuring that one builder handles as much of the work as possible will also simplify your costs because you'll pay fewer transport and start fees.
Get Guaranteed Quotes
It's important to work with builders who can offer a guarantee on their quote within a certain margin. However, that may not always be possible.
For example, if your job is not straightforward, it will be subject to change. And, if there are emergencies, like discovering that the existing ceiling is rotting, or you're trying to build over a spring, it will add a lot of costs to your build project.
However, you should be able to get a black and white quote clearly stating what the project should cost or at least give you a guaranteed range. You should also be able to get that on paper.
If you do so, it will save you from unexpected surprises at the end, where the costs end up being much higher than expected.
Ensure Your Builder Has Insurance and Compensation
Any registered competent person is required to have liability insurance. However, you also want to ensure that the builder has worker's compensation insurance. And, you want to know that they have a workmanship guarantee. These offer protection to your project, so that if something goes wrong, it's not your liability.
With some luck, that will never become important for your job. However, if it does, having the liability insurance in place can save you a great deal.
Flat Roof Extension Project Timelines
Building a flat roof extension will typically take 2-8 weeks depending on the complexity of the job. If you're relying on planning permission, it will take longer.
Planning Permissions

– Submit your request for planning permission at least 8 weeks before the project is set to start. Include all relevant information including architectural designs.

Foundation Levelling

– The construction firm will come out and will excavate and level the area for the foundation. This typically takes 2-6 hours depending on size and your soil composition.

Foundation –

Your construction crew should spend 2-3 hours pouring and levelling the concrete. You'll then have to allow it to cure, which typically takes about a week.

Dismantling Old Wall

– In most cases, your builders will take out the old wall and will cover it with plastic sheeting for the rest of the project. This should be completed in one day.

Framing

– Your builders will construct an internal frame and possibly already construct the initial framing for the roof.

Bricklaying

– The bricklayers will come in and will lay the bricks, typically about 1,000 per person, per day. This means your full project could take 3-5 days.

Windows and Doors

– Windows and doors will be installed and tweaked at this stage – usually in a few hours.

Roofing

– Builders will construct the initial roof, which should take about 8 hours. Afterwards, they'll apply coats of sealant and your roofing material. The full process should take about 3 days.

Electrical Work

– Your electrician can run the wiring.

Flooring

– Your builders will put flooring in, either on a wooden frame or directly on the slab. This will take a few hours.

Drywall

– Your builders will hang drywall and will potentially plaster and paint as well. This shouldn't take more than 4-5 hours.
From there, it's up to you to finish the extension however you want.
Vetting Tradesperson or Company
Building an extension on your home is a big job, and it's important that you choose a qualified person to work with.
Check Online Reviews and References
Check the builder's online presence for reviews. If they have all positive reviews, consider if they are real or not. If they have a lot of negative reviews, ask about them, or look for another builder.
You'll also want to ask for and actually check references. Your builder should be able to showcase a portfolio of previous work and should have photos and contact details. If they don't, it's a bad sign.
Check Qualifications
Your builder should be registered with the Competent Person's Scheme. You can also look up their registration number to verify it. You should also check any other qualifications they list to see what they are.
Get Good Quotes
Getting a clear quote, on paper is the best way to ensure you have a good idea of what to expect from your builder. That quote should detail the potential cost of labour, the cost of materials, insurance, etc. The more details you have in your quote, the better.
Planning Permission Requirements
Chances are, unless you're installing a small extension, you'll need planning permission. You'll always need planning permission if you are in a council house, are developing in view of a road or highway, or live in a listed building.
Your extension counts as a permitted development (PD) and you do not need planning permission if:
The extension does not extend more than 4 metres from the rear of the house on a detached house and 3 metres for any other house

It is not taller than the house at any point

The extension is no more than 4 metres high including the roof

If it is two-stories, it does not extend more than 3 metres from the rear of the house

Your extension is not more than half the width of the original house

Eaves and ridge height are not higher than those on the original house

Eaves are no more than three metres high if within 2 metres of a boundary

Two-storey extensions are not within seven metres of a boundary

Materials are similar in appearance to the original house

There are no verandas, balconies, or raised platforms

There are no extensions fronting a highway or public walkway

No exterior cladding on listed/designated land

If the extension is two stories, the pitch of the roof must match the original pitch – meaning you can't have a flat roof unless you get planning permission.
If you do need planning permission, costs range from £100-£250 for filing that planning permission request. However, you can expect to spend £1,200-£2,500 on surveys and drawing up plans – although chances are quite high that this work is included by the contractor already – as they'll have to create architecturally sound plans in order to build anyway.
You'll also always need Part P Certification. Achieving this means working with a Registered Competent Person or paying for a separate inspection. The inspection will typically cost around £250 if you're working with an unregistered builder – although it will cost much more if your building doesn't meet the building code.
Finally, you'll always have to notify building control of your building. This will cost £170-£690 depending on your location in the UK. Again, if you work with a Registered Competent Person the price should be included in the quote. If not, you'll have to handle the notification yourself.
What's Next?
An extension can allow you to make the most of your home and meet your needs for extra space without resorting to a costly move. A flat roof extension is low-cost, allows you to retain light from existing windows, and is easy to build under the requirements of a Permitted Development. However, flat roof extensions are still big projects and you can expect them to take 2-8 weeks to finish. In addition, costs average £1,200- £2,500 per square metre, with all factors included.