There are three simple reasons for adding sand and cement house rendering to your property's external walls: 
First, to improve the property's appearance.

 

Next, to prevent damp from penetrating the wall.

 

Finally, to improve thermal insulation.

 
The average cost for rendering a wall depends on a few factors that we'll go into later. For now, let's say that across the UK, rendering prices per m2 range from £20 to £45.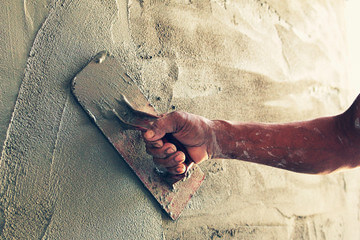 So how much to render a house? Well, a typical 3-bedroom mid-terrace house's exterior walls cost £3000 to £5500 and take 5 to 8 days. 
On average, rendering a house depends on its size and location, the number of walls, their size, condition, and what type of render. However, generally, the price to render an external wall in Southern England ranges from £35 to £45 per m2. Alternatively, tradesmen might charge per hour. However, on top of the hourly rate, you might end up paying a minimum charge as well. Therefore, let's assume it'll cost from £120 to £250/day depending on the render and the complexity of applying a coat.  
Comparing Quotes Could Save Up To 33%:

What is it? 
Usually, exterior render is a layer of sand and cement mortar spread onto a wall's external surface. But, nowadays there are other materials available to make a superior quality render for certain applications. Furthermore, it's important to get the material and consistency right if you want to optimise the render's properties. The 3 main render types are: 
Acrylic render

is the cheapest

type. But unfortunately

, it

isn't very breathable.

 

Mineral

render

is hard

–

wearing

and partially

breathable

.

 

Silicon

e

render

is

the most expensive

.

But,

it has the advantages of being breathable and self

–

cleaning. Unfortunately,

you should only install

silicon

e

render in the summer because it needs warm temperatures to cure properly.

 
Additionally, we have the choice of using thermal insulation render. You can use this on the property's exterior instead of cavity wall insulation, so it's great for old houses without wall cavities. Install thermal insulation boards to the external wall using a purpose–made adhesive and the correct fixings. Then, place a reinforcing mesh, followed by a final render coat.  Although it's more expensive to buy than traditional render, it saves money on your energy bills. Unfortunately, this type isn't very popular in the UK at the moment due to its complexity. But, it's growing in popularity fast. 
No matter which type or method of rendering you use, your house stands out when you've covered up old and tatty brickwork. Well applied render can increase the value of your home, by making it look cared for. 
How Much Does Rendering a House Cost?
We compiled the figures in this article based on those from many online resources. So regard them as average amounts and use them as guidelines only. Every house is different, and so the amount charged varies. So, for a firm idea of the total cost, contact a professional plasterer or bricklayer to give you an exact figure. In the meantime, you can use the amounts shown in the table below as a rendering calculator to estimate the approximate costs. Just compare the house size shown to yours, and you'll get an idea of the cost to do the job. Also, these figures don't include VAT. 
| Outside rendering job | Estimated cost |
| --- | --- |
| 2-bedroom bungalow  | £2500 to £3500  |
| 3-bedroom terraced house  | £3000 to £5500  |
| 4-bedroom semi-detached house  | £4000 to £6500  |
| 5-bedroom detached house  | £6500 minimum |
Comparing Quotes Could Save Up To 33%:

2 Bedroom Bungalow
This type of property is probably the easiest to render. And, of all house rendering prices, this is the cheapest.  Because it has only one storey, you don't need much, if any, scaffolding. Usually, in a case such as this, the renderer uses a small step-up, such as a plastic beer crate to reach the highest wall sections.  
The time needed to render this size building with cement mortar is between 4 to 6 days. Once a tradesman starts to render a wall, it must be finished, without stopping, as soon as possible. Otherwise, the cement starts to cure. So, you'll find that people work in pairs. A professional tradesman to apply the render and a labourer to mix the render and keep the tradesman supplied.  
An experienced person applying the render won't cover adjacent walls meeting at a corner until the first one has dried completely. This method prevents the trowel from damaging the new render when working at a corner.  
Creating a key for the render
Suppose the existing walls have a paint covering, and you intend re-rendering an old rendered surface. In this case, you must remove as much of the original paint as possible. So, the new render bonds to the original rather than paint. Most tradesmen use a scabbling gun (powered by compressed air) to remove the paint and provide penny–sized indentations in the old render. You can rent scabbling guns and compressors from the local tool hire shop. Alternatively, to help the new render adhere to an existing brick–faced wall, we need two coats of PVA. The first coat seals the original surface. Then, the second coat provides a bond with the new render. Sometimes, we also mix a small amount of PVA into the render mix to help adhesion. It depends on the professional's preference. 
Colour
When you add smooth render to a property, you end up with a bare mortar surface without any colour. You can either paint the surface a good quality external emulsion paint. Or, you can use one of the many house–render colours available in the form of dyes. A measured amount goes into the render mortar when mixing so that the colour spreads uniformly throughout the mixture. 
Costs
The 2-bedroom bungalow costs around £2500 to £3500 for a smooth rendered finish, if using standard cement render. And, takes from 4 to 6 days to complete. Other types of finish might take longer. For example, pebble dash render costs about £1000 more than a smooth rendered surface. Painting pebble dash also costs around £1000 more, as the surface must be painted by brush to get into all the crevices between the pebbles. This method is a very slow process compared to using a roller on smooth render. 
3 bedroom
terraced house
A mid-terraced house usually only has a front and rear elevation to render. There might be extensions or porches to render, but let's assume there aren't. You might think that having only two walls makes rendering easier. Unfortunately, this isn't always the case. For instance, the building has two storeys. Therefore, it needs scaffolding on both elevations. And, to render over the entire elevation usually needs more than one day. Often, we can use this to our advantage. Many rendered houses have the render on the upper storey overhanging the lower storey render. This arrangement deflects rain from running down the entire height of the house.  So, it makes sense to construct the render layer on each storey independently of the other one. 
On average we need from 5 to 8 days to render this size house, costing from £3000 to £5500.  In the previous section, we said the team consists of 2 guys: one to mix and deliver, and one to apply the render. 
4-bedroom semi-detached house
A semi–detached house usually has three elevations to render. There might be additional walls belonging to extensions or porches, but let's assume there aren't. The semi-detached building has two storeys. Therefore, it needs scaffolding on all three elevations. And, like the terraced house, rendering over the entire elevation usually needs more than one day. But, with more walls to choose from, it's relatively easy to use up a few hours at the end of the day. Once again, apply the lower and upper storey render independently of the other. 
On average, we need from 5 to 8 days to render this size house, costing from £3000 to £5500.  Just like we said in the previous section, the team consists of 2 guys. One to mix and deliver, and one to apply the render 
5-bedroom detached house
A property of this size usually has extensions and outbuildings attached to the main house to break up such a large detached house's 'boxy' appearance. So, we have many more walls to choose from when rendering. So, a professional plans the order of rendering to make the best use of the available time. Plus, there are the single–storey extensions to render as well. Once again, we need scaffolding to reach the upper storeys, which costs considerably more than scaffolding on smaller houses. Usually, a building of this size costs at least £6500 to smooth render, and might take 2–weeks or more to complete.  
We must also remember that render won't stick if there is heavy rain. Furthermore, if the sun is too hot, the render might dry too quickly and crack. Therefore, it's sensible to choose the correct time of year, usually spring or autumn. However, take advice from the professional. They have much more experience and know the best weather conditions for the job, based on your location.  
Comparing Quotes Could Save Up To 33%:

Garden walls
A house isn't the only part of your property that might need protection using render. Many people choose to match garden patio or boundary walls with the house's render style. Although rendering a garden wall is a good way for the average DIYer to learn how to spread mortar, it probably needs an expert professional to produce a wall that complements the house. The average cost to render a garden wall falls between £25 to £40/m2. However, before you have them done, decide whether you want external garden lights installed. The wiring could be laid along the walls beforehand and then hidden by the coat of render. 
Depending on the height of the wall, you might need scaffolding. But, if you do, you won't need a full stationary scaffold. Instead, the tradesman can use a scaffold tower and move it along the wall as needed. 
Rendering Front of House
You might want to smarten up only the front elevation to give the house kerb appeal. Or, just one elevation might be exposed to the weather. Whatever the reason, many rendering jobs include only one elevation. Once again, we need scaffolding to reach the upper storey. And, like the other jobs, we need a team of two people. One to mix and deliver and the other to apply the render. 
A typical front elevation has an area of about 35 to 100m2. The job might take 3 to 6 days and typically cost from £1500 to £4000. Alternatively, it might cost from £25 to £40/m2 depending on the building's profile. 
Rendering Cost Factors
Many factors affect the price to render your home.  
Render finishes
The most obvious factor is the type of render texture you choose.  
First, let's look at smooth and roughcast render. These are the commonest texture finishes. The tradesman can create either a smooth or rough finish using only his expertise and simple hand tools. 
Next, we have a finish called 'pebble–dash'. We produce this texture by spreading smooth render as before. But this time, we throw small beach pebbles onto the wet render, where they stick and cover the entire surface. Most people handle and throw the pebbles using a shovelful at a time. After the render has dried, we waterproof the surface using at least two coats of exterior paint. Remember that painting pebble dash is more expensive than painting smooth render because it needs a paintbrush rather than a roller. Pebble–dash render costs around £30/m2, and painting costs from £10 to £25/m2. 
Finally, we can use 'decorative aggregates'. This effect uses the same method as pebble–dashing. But, uses decorative stones to create unique effects. It's common to use a mixture of 2 or 3 different coloured stones to create an overall pleasing effect. Now, because the aggregates create the visual effect, we don't want to pant them. Instead, we use a clear acrylic sealer to create a waterproof barrier. 
The amount of scaffolding you need depends on your property's size and the number of storeys it has. Suppose you are rending at least an entire elevation of your house. In that case, you need stationary scaffolding, erected by a scaffolding company. You must also rent the scaffold from the company too. Alternatively, ask the tradesman if he can make do with a moveable scaffold tower instead, as it's much cheaper. Most bricklayers and plasterers have their own, or you can rent a tower from your local tool hire shop. 
Personnel
Most people who apply render, work in teams of two, a tradesman and a labourer. However, if the renderer is particularly fast at applying the render, or if it takes a long time to deliver the mortar mix, they might work in teams of three. In this case, one labourer concentrates on mixing, and the other labourer concentrates on delivering the mix. 
Comparing Quotes Could Save Up To 33%:

Cement mixer and wheelbarrow
Many people who render walls for a living own a suitable cement mixer and wheelbarrow. They use the mixer to make up the required strength of render mix. And, they use the wheelbarrow to deliver the mix to the person applying the render. Render must be free from lumps of dried mortar so don't be surprised if the labourers spend a long time at the end of each day, washing the barrow and mixer to remove all traces of mortar. If necessary, you can rent both a cement mixer and wheelbarrow from a tool hire shop. 
Weather & time of year
We've already mentioned that if it's raining heavily, render won't stick to a wall. But it's not only rain that can cause problems with a good render finish.   
Too much sunshine might ca

us

e the render to lose

it's

moisture before the chemical reaction has completed.

Then,

cracks appear that might be a simple matter of filling before painting. Or, the

y

might be so bad that the render doesn't completely bond with the underlying wall.

 

Frost and snow c

a

use problems too.

T

he wet trades (rendering, bricklaying and plastering) rely on water remaining liquid. Unfortunately, at temperatures below 4°C water expands, until it finally freezes at around 0°C. Can you imagine what happens in a render mortar mix that is happily curing by a chemical reaction, when water starts to expand? That's right, firstly the reaction slows and then cracks appear. The problem becomes even worse when ice crystals form in the render and crack open the chemical bonds before they have completely set.

 
So, don't get upset at the rendering team when they say they can't continue work while the temperature is too high or too low. They are doing you a favour. If you insist on them continuing to work, you'll have to pay them again to put things right on a better day. 
Size of company
You might imagine that large construction companies have many jobs on the go simultaneously. You'd think they could afford to reduce their charges. But, you would usually be wrong. Unfortunately, large companies also have high overheads such as office premises, workshops and office staff. They also have fleet vehicles and command high insurances because of their large number of employees. On the other hand, small building companies and self-employed tradesmen have low overheads, very rarely have premises, and usually do the office paperwork themselves. Therefore they can charge pretty much what they want, to easily undercut the 'big boys'. 
Location
Labour charges vary depending on what part of the country you are in. Tradesmen in London and Southeast England generally charge up to 20% more than those from other parts of the UK. So, if you live in Essex, Surrey or any other counties around London expect your bill to be higher than if you lived in Wales, Cornwall or North Scotland. 
Comparing Quotes Could Save Up To 33%:

VAT
Usually, quotations exclude VAT. So, always ask the tradesman to include VAT, so you know exactly how much you have to pay. 
Additional hire costs
We've already mentioned cement mixers, scaffolding and scabbling guns. But, you might have to hire other things to comply with the legislation: 
Waste skips are a must-have. Not only will there be old rubble

when you remove

the

previous render,

but

there

are

also washings from the mixer at the end of

each

day. No-one is allowed to pour cement washings down the drain or allow it to run down the road.

You must dispose of it

according to the relevant waste disposal regulations.

Contact your local council or the waste skip company for more information.

 

Health and safety law

specifies that all construction workers must have access to toilets, hand washing facilities and somewhere to

eat food and have a hot drink

. Large companies sometimes own 'welfare huts'

, which contain

toilet

s

, hand-washing and changing facilities.

They bring these

to the site for their workforce.

But,

anyone can rent them from a local hire shop

so even small companies can use them.

 
Hiring a Rendering Contractor: Checklist
You aren't likely to find a contractor who only does rendering unless it's a specialist company. Most small companies or self–employed tradesmen give their rendering work to plasterers or bricklayers. Both these trades know how to render and have the correct tools. 
After you find someone to render your wall, but before making your final choice, chat with them and find out what they're like. You must feel safe in your home and be satisfied that the person you're hiring is a professional. 
Ask for a quotation on headed paper. The quote must specify the job's scope, a breakdown

showing each

aspect of the work, and the total price. The quote should also specify the manner of payment.

 

Find out how long the company has been trading and what experience they have with jobs like yours.

 

Ask for references from previous jobs. And, always contact the referees if you can.

 

Make sure the company has the correct insurance cover. 

 

Public Liability Insurance covers the contractor if they damage your property or cause injury or death due to faulty workmanship.

Typically

the cover ranges from 1 to 5 million pounds.

 

Employers Liability Insurance provides cover

for

employees working on the project against injury or death. This one is very important

as far as you're concerned

. Otherwise

,

you might be liable for a civil lawsuit if any

one

become

s

injured while on your property.

 

Personal Accident Insurance covers the tradesman if they have an injury on your property.

 
Comparing Quotes Could Save Up To 33%:

What is the process of rendering a house?
Rendering a house isn't something you should do yourself without many years of experience. It is difficult to get a good finish and can be a problem to make the render stick to the wall. So, always use a professional.  
The type of finish
Before starting, make sure you know what style of finish you want. You can't change your mind halfway through the job, so make sure the tradesman knows in the planning stage. Use their expertise, as a professional knows which types work best in your situation. We've covered the commonest types of render finish in this article. Still, there are other specialist types available that might be better. 
Prepare the walls
Have a qualified bricklayer assess your walls' condition and do any necessary repairs before rendering. The finished render is only as good as the underlying wall. 
Prepare external details
Every house has exterior details such as vents, rainwater downpipes, and window sills, to name a few.  You need to remove downpipes and extend items like vents and windowsills.  
Next, metal stop beads and angle beads must be fixed around window and door openings and on external corners to provide sharp edges to the render at these locations. 
1. Insulation
If you decide to use rigid insulation boards, they need to be fixed before applying the render. Choose the appropriate fixing type depending on your wall material. 
2. Render mesh
Insulation board needs a render mesh fixed on top, to fix the first coat of render. It also acts as a reinforcing mesh to prevent cracks opening up. 
3. Render base coat
The underlying wall surface determines the type and method of applying the base coat. Especially if you have insulation boards installed. The bricklayer or plasterer who is applying the render should know this, so leave it to them. 
Basically, you have to apply a suitable layer that adheres to the underlying surface and supports the finishing coat. 
4. Render finishing coat
There are many types of finishing coat available. Some are synthetic and provide colour and reinforcement. In contrast, others are natural and need painting afterwards. We talk about the various finishing coats later in this article under its own section. If you choose a finish that needs painting, make sure you use a good quality exterior weatherproof paint appropriate to the type of finish you have. 
5. Replace details
Now you've done everything, replace the rainwater downpipes, soil pipes and other details you've removed. 
From start to finish you can usually expect the entire job to take around 4 weeks. 
Comparing Quotes Could Save Up To 33%:

Benefits of Rendering
At some time in their lifetime, most houses need a facelift. Sometimes, just a coat of external weatherproof paint does the job. But, many need covering with waterproof render especially if the brickwork has eroded or been damaged somehow. 
Weather resistance
The commonest reason to render external walls is to increase their resistance to weather and reduce brickwork maintenance costs. Brickwork is usually porous, and, this causes ingress of damp through to the cavity. Furthermore, the brick surface crumbles when water soaks into the outer layer, followed by freezing weather, which expands water into ice crystals. A coat of render effectively seals the brick from water and ice damage. 
Damp & mould
As with all porous surfaces, you have the threat of the house becoming infected with mould, fungi and damp. Damp causes structural problems within the house. And, aggravates health problems with you and your family. It even damages your furniture and furnishings. Using a good quality render effectively prevents damp and mould from infiltrating your property. However, a coat of render only stops new damp from entering. It won't get rid of existing damp and mould growth in your home. Therefore, it's up to you to have your home treated for rising damp and other problems. Inserting a new damp proof course can cost around £30/m2, plus additional treatment to eliminate existing mould. 
Insulation
Sometimes, houses without cavity walls would benefit from insulation. But, unlike modern houses cannot use cavity wall insulation. In that case, thermal insulation render can help. Although it's more expensive to install than cavity wall insulation, it is just as effective. To use cavity wall insulation effectively, you must have brickwork with waterproof, intact pointing. Using insulating render, effectively waterproofs and insulates so fixing both problems in one job. 
Suppose you don't want insulating render (it is very expensive after all). Instead, you can use acrylic and polymer renders with a higher insulation rating than cement or lime renders.  
Types of Render Finishes
Apart from pebble–dash and decorative aggregate render mentioned earlier, other specialist external render finishes are available. 
Roughcast
render
Roughcast is also known as 'wet-dash' in Northern England and 'harling' in Scotland. This render has a coarse finishing coat like pebble–dash. Instead of throwing pebbles onto the render, gravel and mortar used in roughcasting are thrown onto the wall, having been premixed first. Compared to smooth render, roughcast's large surface area aids moisture evaporation. So, it's very useful in exposed areas. 
Polymer render
Polymers are long–chain plastics that when added to exterior render mixes, help prevent serious cracking. Polymers also have the added advantage of colour. Therefore, avoiding additional painting costs. Polymer renders include silicone that waterproofs the render. And, nylon or glass fibres that reinforce when embedded in the render. Polymer render starts at around £30/m2. 
Acrylic render
Acrylic render is only used as a final finishing coat on top of existing render or a new base coat. Use it as a waterproofer and to reduce the amount of surface cleaning required. Acrylic render starts at around £30/m2. 
Monocouche
Monocouche is also a polymer–based render but doesn't need a base coat. Because they are one-coat renders, they apply faster. Still, they can only be applied onto certain surfaces such as lightweight concrete blocks. Monocouche render starts at around £35/m2. 
K Rend
K-Rend is a UK based manufacturer of silicone coloured renders. The company produces various ready mixed render materials such as lime and cement, incorporating aggregates and additives. Their products have different textures, many different colours, and also includes insulation render. Because K-Render is a specialised product, the company holds training days for installers to learn about their product and how to apply it. 
CorkSol
CorkSol SprayCork is one of the popular alternatives to rendering. It is a spray cork coating providing a breathable, flexible and weather–resistant render. It's also waterproof and increases the building's insulation. Lastly, it's a completely sustainable exterior render coating that you might have seen highlighted on Kevin McCloud's Grand Designs Channel 4 television programme.   
Painting Rendered Walls
Unfortunately, you can't go ahead and paint the newly rendered wall the following day. You must wait until the rendered surface has finished curing and the moisture has dried out. Usually, the time until it's ready for paint depends on the type of render, weather, air humidity and air temperature. Let's look at a few common types. 
Lime render won't dry out in wet weather. But, in temperatures below 16°C takes from 4 to 7 days. In warm weather from 17°C to 25°C, you can paint after 2 to 4 days.  
Cement render also won't dry in the rain. Moreover, it takes 5 to 8 days to dry out in cold weather below 16°C. And, 2 to 5 days in warm weather from 17°C to 25°C. 
Pebble–dash takes about a day longer to dry. But, acrylic and polymer render needs one to three days less.  
Comparing Quotes Could Save Up To 33%:

Planning Permission & Building Regulation
You won't need to have planning permission for rendering your property unless you live in: 
L

isted building

.

 

Conservation Area

.

 

National Park

.

 

Area of Outstanding Natural Beauty

.

 

T

he Broads.

 
However, new rendering comes under the Building Regulations in certain categories. 
Rendering Q&A
Does rendering stop damp?
As long as you dry the external surface of your underlying wall, render prevents penetrating damp. Rising damp is something completely different and needs a new damp proof course. 
How long should rendering last?
Good quality render lasts for at least 30 years. However, ensure you look after it well and repair any cracks or damage.  Furthermore, remove mould and climbing plants like ivy, and use good quality waterproof paint. 
Do you need to repoint before rendering?
No. Any cracks or small holes in the wall helps to key the base coat. However, if the cracks are due to structural movement, get that fixed first. Similarly, fill any large holes with sand and cement mortar. But, to give a key for the base coat, don't worry about smoothing the repair. 
Is cracked render a problem?
The answer to this question depends on the extent of the cracks. Watch out for cracked or bulging render, as this indicates something is seriously wrong. Frost getting to water trapped between the underlying wall and the render usually cause these bulges. Problems like this come from poorly maintained render or water soaking into the wall from the ground. 
Can you render over old render?
Yes, as long as the underlying render is sound, and adheres to the underlying wall over its entire area. Also, check that the original render isn't thicker than 15mm. Otherwise, the new render's extra weight might be too heavy for the adhesion between the old render and the wall. In cases like these, both layers of render collapse.  
What is the best render for a house?
The answer to this question depends on your situation and what you want to achieve. There are other render types available that we mention elsewhere in this article. But, the commonest renders used in the UK include cement render and lime render. Tradesmen use these two on all types of buildings and have done for many years. To make sure the render does its job properly requires a professional who understands how to apply them, and knows how to use the tools.  
How do
you
waterproof render
walls?
By far, the best way to waterproof render is to use a primer on the underlying wall, followed by a waterproofer added to the sand and cement render mix. 
Another way is to apply a water repellent to the dried finishing render coat. Ensure the product is suitable for walls contaminated with 'salts' and other chemicals that might be present.  
Finally, use an exterior masonry emulsion paint with added fungicides. 
Is render better than brick?
The answer depends on what you mean by 'better'.  
Using brick is more labour intensive than concrete blocks and render. And it's more expensive to buy. However, render is more vulnerable to weather effects and shows stains and cracks after a few years. On the other hand, if exposed to continual bad weather and frost, brick crumbles and allows damp to penetrate. 
Find Local Renderers
Your property might need the walls covered in render to prevent penetrating damp and give the building a new lease of life. If so, choose to have it done by a professional rather than risk a DIY job. 
Just complete the form on this page. You will then get 3 or 4 quotes from qualified and professional tradesmen, showing the cost of rendering a house.
Comparing Quotes Could Save Up To 33%: